Posted on June 15, 2017 by admin
One of the biggest challenges website owners face is attracting the right traffic. But what does the "right traffic" mean? For many it comes down to visitors who have the potential to become customers. But that can't be it, can it?
If you're only targeting potential customers with your marketing, you're missing out. There are lots of other important groups of people that may not buy from but can help you reach more prospects.
Bloggers, influencers, journalists, sponsors, volunteers are just a few of those who can help increase your site's visibility online and get people talking about what you do, whether you sell cleaning services or blog about your trips around the world.
In this post we'll introduce you to the different kinds of people you should be trying to attract, and ways to get eyes on your website.
Customers (and similar visitors)
Why they matter
If you're a business, you can't survive without customers. So, of course you're going to want to get more prospects to your website and introduce them to what you do and how you can help. And remember, if you're looking for volunteers or sponsors, you can still adapt these techniques to match your own needs.
How to attract them
Find out who they are. To find and attract your ideal customers, you must first learn who they are, what questions they are asking, what pains they face, and which challenges they are desperately trying to solve. Check out this fantastic guide to buyer personas by Mike King for in-depth information on how to find and appeal to your ideal customer.
Create useful content and resources that answer their questions and help build their trust in you. This can be anything from blog posts and tutorials to ebooks and case studies. If you don't like blogging but don't want to miss out on the opportunity to bring more traffic to your site, here are six alternatives you might want to try.
Optimise your website content for search engines so prospects can find you in the search engine results. If you're not familiar with search engine optimisation (SEO), we can talk you through everything from researching keywords to properly optimising a landing page.
Find out where they like to spend time online, including which social media networks, groups and forums they're on, and then try to build a relationship with them. This includes sharing useful and engaging content, and answering to their questions and concerns.
Get found by local customers. If you want to sell to local customers, you need to make it easy for them to find your business online. Getting your business listed in local directories is an effective way to boost your online visibility and ensure that prospects find your business in the local search results.
Sure, figuring out which local directories to use and submitting your business details can be time-consuming.
Create profiles on popular review sites like TrustPilot, Yelp and TripAdvisor, and encourage former customers to share their experiences with you. This can help prospects get a better idea of what it's like to do business with you, and it'll also help with your SEO efforts as those reviews will show up in the search results when people search for your business.
Give paid advertising a try. Whether it's on Google or social media platforms like Twitter and Facebook, paid ads can help you to quickly get in front of your customers.
Blog readers
Why they matter
Whether you're blogging for business or pleasure, your goal is to attract as many readers as possible (and, of course, to entice them come back).
But writing blog posts alone won't help you achieve that. So, what you can do to get more readers to your blog?
How to attract them
Write blog posts that your readers will find useful and interesting. This may seem obvious, but there are many bloggers out there who make the mistake of writing about themselves and stuff that no one's interested in. So whatever you're blogging about, make sure your readers will find it interesting and helpful.
Be original. You're not the only plumbing business that has a blog. And you're not the only traveller who blogs about their trip to Japan.
So if you're sharing the same information and tips that everyone else is sharing, without adding your unique insights, experiences and personality, you'll have a hard time attracting readers.
But when you have a unique point of view, angle or experience, people will be curious to read it. And if they enjoy it, they'll share it with the friends and social media following.
Check out this example from Nomadic Matt's travel blog: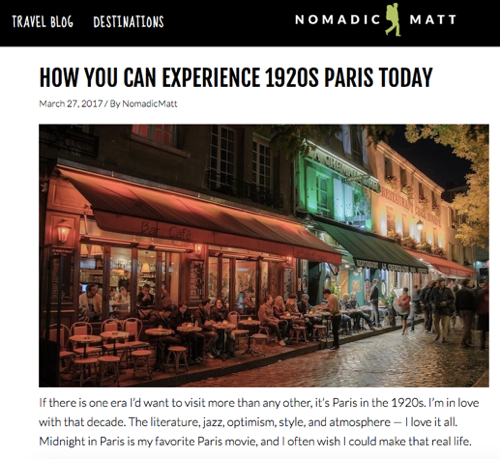 Optimise your blog posts for search engines. Don't skip this because properly optimising your articles can help increase visibility on search engines, which translates to more visitors to your blog.
Promote your blog posts on social media and encourage people to engage with it – to comment, like, and share it with others. It's easy for your post to get ignored on social networks like Twitter and Facebook. So here are two good ways to create interest and pull your reader in:
Give your blog post an exciting title that'll make people want to click to read more.
Here's an example: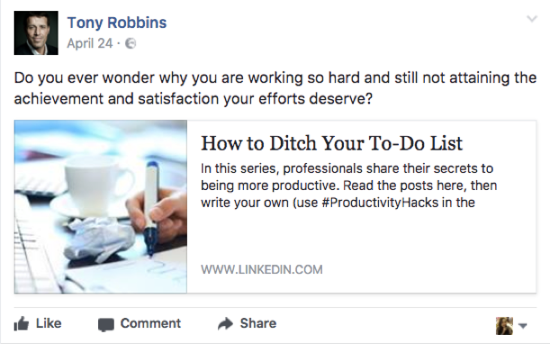 Ask people to take action in your status update. You can either ask a question or encourage them to comment or tag friends.
Check out this example that you could easily adapt for your own needs: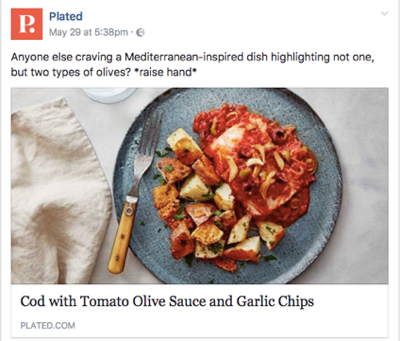 Remember that the higher the engagement, the higher the reach of your blog posts.
Guest blog. When you're just starting out, you have a very small audience. Guest posting for bloggers with larger audience than your own is a fantastic way to get more eyes to your blog.
So, reach out to bloggers who make sense for your area of expertise and write an awesome post for their site.
Here's an example: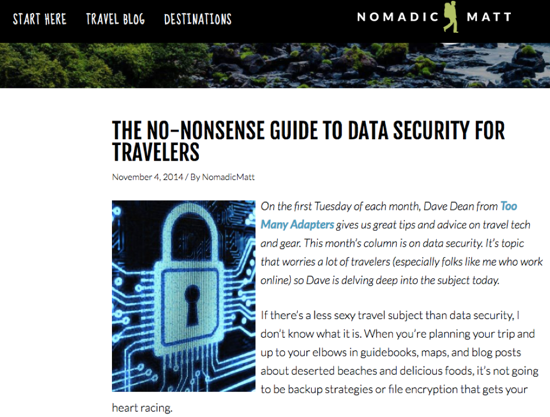 Too Many Adapters is a site with technology news and information for travellers, and they chose to guest post on Nomadic Matt's website, a travel site.
Now, when searching for blogs to guest post, make sure they meet the following criteria:
The content is focused on your niche/ industry.
The audience of that blog will be interested in your industry.
Readers are engaged and active, meaning they comment on posts and share them on social media.
The blog owner is also active on social media and has a decent following (so you know that they will be promoting your post on their channels).
Influencers
Why they matter
Influencers, journalists and bloggers are people who have already built up the audience you're trying to reach. And because of the loyalty of their audience, they have the ability to drive traffic to your website, increase your social media exposure, and flat-out sell your products and services through their recommendation or story about their experience with your business.
In a world of banner blindness and ad blockers, influencers are now dictating trends, telling (or showing) people everything from what to wear to where to eat, and your target audience is paying attention.
How to attract them
Target their communities. Influencers are everywhere – on their blogs, social media channels and groups and forums – always connecting with their followers. So they're likely to be part of a group or community in your industry.
Instead of emailing them for attention, consider interacting with them on the groups they're part of. You can do that by either commenting on the content they share, or by creating your own content and sharing it with that group or community. Some good places to start your search are: Facebook, LinkedIn, Twitter and Quora.
Feature them in a post. Influencers feel special when they're featured in someone else's work. And chances are they'll share that content with their audience as well. That means tons of traffic for you.
So, how can you feature them in your own piece of content?
Extract a quote from one of their articles and add it to your own post, while also linking to it.
Highlight their work as an example.
Do an expert roundup post and invite them to share their tips and advice. You can find examples of this technique in this article.
Build a relationship with them. This starts with following their blogs and social media accounts, as well as sharing and commenting on their blog posts and social content. In other words, if you want them to notice you and become your brand ambassador, you need to be theirs too. While they may not need as much visibility as you do, they still need it.
Extra resources
Investors
Why they matter
Because you may be a startup looking for financial support or expertise to launch or grow your business. So, why not use your website to introduce potential investors to what you do and your potential to launch and run a successful business?
How to attract them
Apart from having a professional looking website, consider creating and optimising your profiles on LinkedIn, AngelList and CrunchBase. These platforms are popular amongst investors in search of innovative business ideas. So make sure you fill out all your information, including website address, and also write a powerful description for your startup.
Be everywhere. If you want to be noticed, you need to be active online. That means:
Creating high quality content on your website as well as on platforms like LinkedIn and Medium, and then sharing it online.
Getting influencers and journalists to spread the word about what you do and how your product or service makes people happier/ healthier/ more productive.
Engaging and building relationships with potential investors wherever they're spending time online.
Wrapping up
These are just a few of the important groups of people that a website may want to attract but there are surely others.
So tweet us @DevonWebsg and tell us – who are you trying to attract, and what has worked for you?